Regular Items
Next run is Run 1400
Sunday 17 December - chez Count Roadkill & Lady P, Great Barford MK44 3LQ
If you are planning to bake a cake for this or any other run, please let our cake 'Master Baker' Frau know by text.
Dog owners please note that while H5 welcomes dogs to the Hash, owners are reminded that they are responsible for the actions of their dogs and that any third party claims arising will be directed to the individual.
Receding Hareline
Hash Trash
Hares email your Words to Scribe by Wednesday: wurdz@h5hashers.org.uk
Hot News
Next Event
Tuesday 19 December
Capt Fantaaastic's Bling Run
el Capitan is once again organising his annual , starting from The Compasses in Greenfield at 7pm sharp
Come alone, run/walk, and sing hearty carols to the local residents
Fish and Chips from the van available to order from the Capt
Diary Dates
Sunday 14 January 2018
New Year's Lunch
The Chequers @Houghton Conquest
Organisers: Blowfelt & Golden Globes
18-20 May 2018
UK Nash Bash 2018
Brighstone Holiday Centre, Isle of Wight
10-17 September 2018
Montenegro
Lady P has arranged a hash holiday to Montenegro
All spaces are now booked. Sorry if you missed out
In Other News
Next Time Don't Forget Your Tankard
Tired of Traffic Queues? Not Any More
Hasher Stats
Want to know how many runs you've done this year? In total? How many times as a hare?
Stats updated monthly (latest: 5 Dec)
Charity Donations
Thanks to our yummy cake-bakers...
... we are pleased to raise funds for various charities in which H5 members have expressed a personal interest
Postcards from the Hedge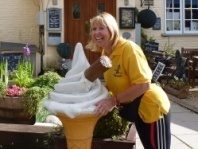 Browse Hash Flash's picture archive