Regular Items
Next run is Run 1382
Sunday 20 August - The Danish Camp, Willington MK44 3QG
If you are planning to bake a cake for this or any other run, please let our cake 'Master Baker' Frau know by text.
Dog owners please note that while H5 welcomes dogs to the Hash, owners are reminded that they are responsible for the actions of their dogs and that any third party claims arising will be directed to the individual.
Receding Hareline
Next Event
Sunday 20 August
Cycle Treasure Hunt
Organisers: Knobber, Double Entry and Bell End II
Starting from The Danish Camp, Willington at 10am
Teams of 4 ideally. A lovely route awaits with clues to solve along the way. There is a planned lunchtime stop at d'Parys pub in Bedford
A cycling helmet is STRONGLY recommended (as is a bike) plus water or non-alcoholic drinks
Hot News
Airscrew Checks In
Hiya
Just checking in – hope all is well with y'all?
I almost made a surprise visit this month but couldn't pull it off.
We have moved from Baltimore to Downtown Fort Lauderdale, Florida. It's not as hot as Baltimore in the Summer, but plenty of Humidity.
We are in a complex with 2 bed 2 bath, great Gym and Pool.
I still have my lower back issues, so still cannot run. I am trying to drop the beer belly weight to see if that helps.
Anyway cheers for now
On On
Airscrew
Diary Dates
Mon-Sun 18-24 September
Away Week at Carcassonne
7 days relaxing in the sun at La Maison, Villegailhenc
Saturday 7 October
Bowls and Croquet Day
Organiser: Bangers
11am to 4pm, with a Bangers 'n' mash lunch
Fri-Sun 27-29 October
Nik-Nak and Lady P have scary plans for Halloween...
Weekend in a spooky remote farmhouse at Longnor, Derbyshire
2018: Montenegro
Lady P is putting together a proposal for a hash holiday to Montenegro, probably in September 2018. Early days yet; more details when we have them
Other Hash Events
Fri-Sun 25-28 August
UK Nash Hash 2017
Easton College, Easton, Norwich
Organised by Ancient Britons H3. Details here
In Other News
Bree Louise to close
We are sad to hear that the Bree Louise pub in Euston is to close in November to make way for the HS2 rail project.
Click/tap the pic to read the CAMRA What's Brewing newspaper article
As Opposed to the Other Sort...
Hasher Stats
Want to know how many runs you've done this year? In total? How many times as a hare?
Stats updated monthly (latest: 9 August)
Charity Donations
Thanks to our yummy cake-bakers...
... we are pleased to raise funds for various charities in which H5 members have expressed a personal interest
Postcards from the Hedge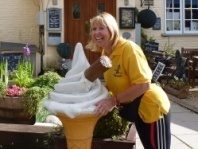 Browse Hash Flash's picture archive